Welcome to my site... this is the portfolio of Dustin Smith, a Graphic Designer based in Kaysville, Utah. Take a look around and enjoy your stay.
About Me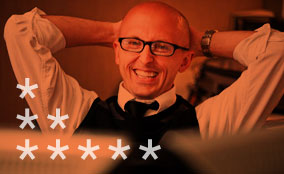 Hello, thanks for stopping by. My name is Dustin Smith; I am a graphic designer currently residing on the border of Kaysville, Utah. I have been avoiding this section of my portfolio for some time, and figured I better just bite the bullet and finish it up. If you think it is hard to design for yourself, writing for yourself has been an even greater challenge.
My experience in design spans well over ten years now. I have worked in various capacities with brands and companies big and small. You can view my resume by clicking here. I am a passionate visual communicator who is fascinated with simple clean design. As Paul Rand said: "Design is everything." I believe creativity can solve any problem.
I am very selective about new projects I take on. Feel free to contact me, and let me know what I can do for you.
I currently work as the Creative Director at Jacobsen Construction. When I am not thinking about design, I love to hang out with my wife, work on my house and play hide and seek with my beautiful girls. I am a huge Apple fan. I think I have stock in the company, and when they come out with the iBrush (a sleek, smooth multi-bristled toothbrush) I will be one of the first in line to buy it. I also like to help others and serve faithfully in church/neighbor responsibilities.
My Work Center:

Design - Creative Suite CS6
Web Layout & Coding - Dreamweaver CS6
Animation - After Effects CS6
Computer - MacBook Pro
Email & testing - iPad
Print Design

Print is my forte. I can offer solutions to your print needs, from business cards to billboards and everything in-between. Here are a couple other services I provide: logo design, business collateral design, packaging design, brochures, pamphlets, direct mailers, banners, annual reports, programs, posters, ect. I can help you with pretty much anything you need.
Web Design
Web is my hobby. I can help you with your web needs whether it's a site designed for your business or a background designed for your blog. I am proficient with HTML and CSS, and I have a good knowledge of Flash. Contact me with your web design needs and I should be able to help you find a solution that is clean, exciting and functional.
Marketing
Branding is my passion. With my experience in print and web design I can help you get your business seen. With my experience in the design field I can help handle all your branding and identity needs to get your business recognized. I can also help you launch all your online & e-mail marketing campaigns to get your business moving forward.
Clients
Here are a couple companies I have had the pleasure of working with.
If you would like your company to be featured here contact me and write me a testimonial. I will be happy to input your information to the right.
Testimonials
Working with Dustin Smith in the design of my website has been a real pleasure. As an artist I had an idea of what I wanted to communicate with my webpage. Dustin was patient with my demands, guided me through the process with a great sense of humor and delivered a design much better than I expected. I am more than satisfied with this great tool to present my work. Thank you Dustin!
Dustin is a very respected graphic designer and he does amazing work on behalf of our company. We appreciate all that he does to help make our business successful.